Share This
About
Who we are
Sound42 is an Audio production team from Vienna – Austria,
that is specialized on producing Game music and SoundFX
as well as on composing individual music for visuals.
Founder
Lukas Hasitschka earned his diploma's degree in Jazz-Drums at Gustav Mahler Conservatory in Vienna. Together with developers he plans Audio-Concepts, composes themes and produces music.
Team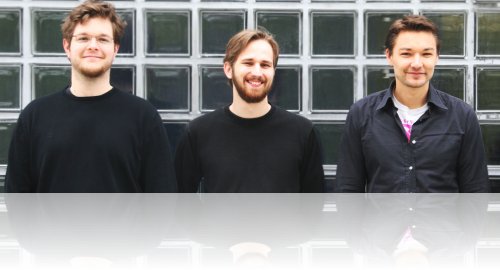 Paul Gallister earned his "mag.art"-degree in Classical Composition at the University of Music in Vienna. He composes soundtracks, string quartets, symphonic tracks and arranges orchestral parts.
David Osternacher earned his bachelor's degree in Media Technology and –Design at the University of Applied Sciences Hagenberg. He works for Dynamedion and for the Boom Library. He is Sound Designer, Sound Mixer and makes SoundFX.
Gerhard Pacher earned his "mag.art"-degree in Jazz-Piano and Classic-Piano at the University of Music in Vienna. He arranges Pop-tracks and produces electronic-music.
What we are doing
Composing individual Game music


Recording and mixing Game sounddesign

Jingles – Audiobrandings

Theme tracks – Background tracks

Voice recordings

Sound FX.
for:
Games and interactive media

Animations
TV-Spots
Image Films
Trailers
We at sound42 are dedicated to use the musical creativity and technical skills of young composers in the fields of sound design and audio editing.
As a team we work together with the developer or producer  to create a unique and authentic audio concept that meets the high quality our customers expect.
Our focus on music
Making new concepts of how to use music in games
Creating new sound- and arrangement ideas
Symphonic and classic orchestrations
Jazz, Pop and Funk arrangements
Our focus on soundFX
Individually recorded/produced
always fitting to the track
How we work
The high quality of our work and the satisfaction of our customers is our highest priority.
Therefore our team creates an audio concept (based on the demands of the developers) that is not only unique, but which furnishes the game with the auditive expression that it visually displays.
All of the sounds are designed anew and the music is individually composed to fit the genre.